I have created a range of DIY projects.
Further information and project links can be found below.
Please note I cannot offer any assistance or support on these projects!
TEQUILA BUZZ FUZZ

This is a fun little silicon fuzz I did a layout for. It's great for spluttery single note 'Spaghetti Western' riffs (just add reverb).
It's basically a bastard offspring of the old silicon Fuzzrite designs from the 60's.
It does not sound smooth, it does not clean up, it does not make you sound like Bonamassa or Eric Johnson, and it doesn't really like chords!
It does, however, sound like most Fuzzrite's sound… totally awesome raspy psychedelic 60's fuzz.
Schematic:https://drive.google.com/file/d/0B6pxlO8pD3G_WkdGbWJ6emN3QjA/view?usp=sharing
Purchase PCB's from OSH Park: https://www.oshpark.com/shared_projects/WQGpnpO6
Notes:
– The caps are 2.5mm spacing. I used MLCC (Multi Layer Ceramic) caps, but normal ceramics should also fit.
– The Transistor outlines on the scrrenprint are for 2N3904's, therefore watch your transistor pinouts!
– The high cut switch, C8 and C9 are optional and are just for a simple treble cut at the output. I didn't end up fitting it on my build.
– PCB will fit a 125B. It may a 1590B (I don't use them so haven't checked).
JACK MOUNTED BUFFER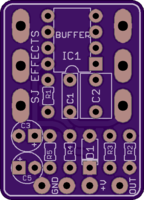 I designed a little stereo-jack mounted opamp buffer to use with pedals.
I am using the Neutrik NMJ6HCD2, but most switched solder pin stereo jacks should work.
Schematic: https://drive.google.com/file/d/0Byjv1TrTD3OaeHFlcEw4UlRxQUU/view
Purchase PCB's from OSH Park: https://www.oshpark.com/shared_projects/NYKEZywJ